CSC Scholarship for Excellence Award Winner!
March 25, 2021 | By Administrator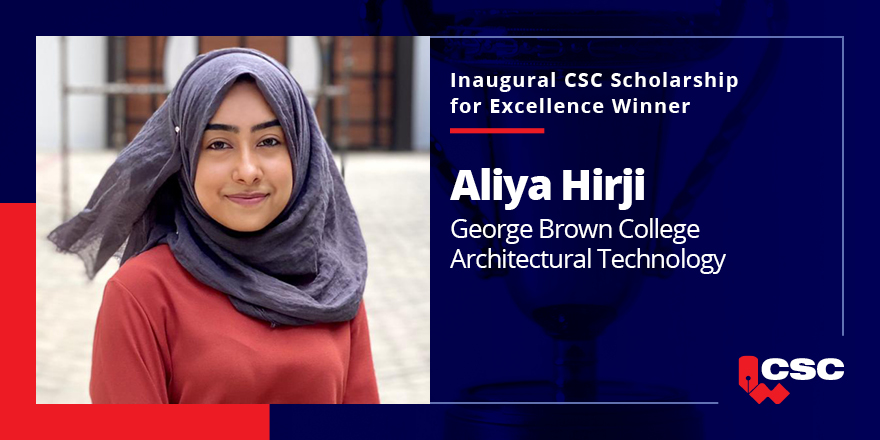 A third-year construction management student from Toronto's George Brown College has been presented the inaugural Construction Specifications Canada (CSC) scholarship of excellence.
Aliya Hirji received the honour, which includes a $2500 prize. Hirji, who also completed an honours degree in architectural technology last year, says her diverse background and exposure to multiple design methods are among her greatest assets for working in the industry.
"I strongly believe I have thrived as a young architect," she tells Construction Canada. "As a student bridging the world of architecture and construction, my vision is to bring change to the industry as a young, innovative, and highly skilled woman with a great eye for design.
"Receiving this scholarship not only acts as a strong motivation but validates my efforts and spur on to greater success," she adds.
Likewise, CSC sees the scholarship as an opportunity to support institutions of education, as well as encourage students to learn more about the association and the career opportunities available to them.
"One of our mandates is to educate, and what better way to do that than encourage students by awarding a scholarship?" says CSC president, Kimberly Tompkins, FCSC, CTR.
"There is a shortage of specification writers across the country, with more and more of our RSW and CSP members retiring each year," she continues. "We hope both in-class teaching, and the scholarship opportunity, raises awareness of the careers available to technical writers, and not just architectural technologists."
"There is a call for improvement on the quality of documentation in the construction industry. Who better to continue to work on it that CSC through awareness and education?"
Construction Canada
recently spoke to Hirji to learn more about her career goals and find out why she decided to pursue this field. Check out the interview by clicking
here
!