CSC Webinar: Misguided Guide Specs
Are Your Product Specs Really Helping the Specifier?
May 04, 2020 | By Administrator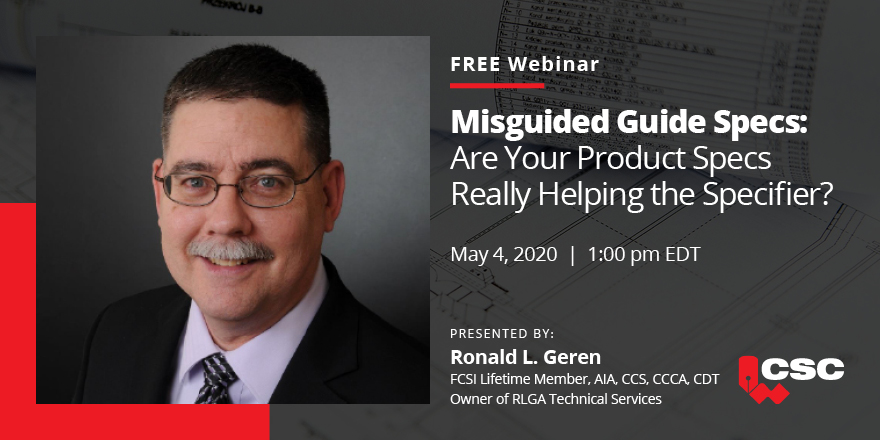 Many manufacturers of construction products provide guide specifications for the design team to use in specifying the manufacturer's products. But as many professional specifiers have stated, not all manufacturer guide specs are created equal—in fact, many manufacturer guide specifications fall well short of what a specification is intended to provide, and many fail to follow even the simplest of provisions in standards developed jointly by CSC and CSI.
The intent of providing manufacturer guide specifications is to make the specifier's job easier by assisting the specifier in making system, accessory, and option decisions. However, if manufacturers are going to provide guide specifications, then they should make the investment of time and labor worth something to both the manufacturer and the specifier by following established standards.
Developed for construction product representatives, this presentation would also benefit the novice specifier and designers who perform product research.
The objectives for this presentation include:
• Understand the important role that specifications play within the contract documents.
• Identify the ten most common mistakes in manufacturer guide specifications.
• Understand the reasons why the common mistakes do not help the construction specifier.
• Identify recommendations to assist in the development of manufacturer guide specifications.
Speaker Biography
Ronald L. Geren is the owner of RLGA Technical Services, a specifications and building code consulting firm in Scottsdale, Arizona. He has over 30 years' experience in the construction industry, which includes projects covering many building types such as residence halls, classroom and office buildings, libraries, multifamily residential, commercial office and retail, religious, theaters, and military. Ron is a professor of architecture at the School of Architecture at Taliesin where he teaches construction documents, building codes, practice management, and building construction technology. He is also a member of the AIA Codes and Standards Committee. Ron is the author of "Applying the Building Code: Step-by-Step Guidance for Design and Building Professionals." Ron is a certified construction specifier, a certified construction contract administrator, and a certified building plans examiner, and is a former Board Chair of the Construction Specifications Institute (CSI).
Continuing education certificates will be issued for this session as it will count for one structured learning hour.
Date: May 4, 2020
Time: 1:00 pm to 2:00 pm EDT
Cost: Free
Space is limited! Register early to avoid disappointment!